Podcast: Embed
Subscribe: Apple Podcasts | Google Podcasts | Spotify | Android | iHeartRadio | Blubrry | Email | TuneIn | Deezer | RSS
CardioNerds (Amit Goyal & Daniel Ambinder) join Cleveland Clinic cardiology fellows (Ben Alencherry, Erika Hutt, Zach Il'Giovine, Kara Denby) for some delicious craft beer at Platform Brewery! They discuss a challenging case of Ehlers Danlos Syndrome with Papillary Muscle Rupture. Dr. Vidyasagar Kalahasti provides the E-CPR and program director Dr. Venu Menon provides a message for applicants. Episode notes were developed by Johns Hopkins internal medicine resident, Eunice Dugan, with mentorship from University of Maryland cardiology fellow Karan Desai.
This case has been published in JACC Case Reports: CardioNerds Corner!
Jump to: Patient summary – Case media – Case teaching – References
CardioNerds Case Reports Page
CardioNerds Episode Page
CardioNerds Academy
Subscribe to our newsletter- The Heartbeat
Support our educational mission by becoming a Patron!
Cardiology Programs Twitter Group created by Dr. Nosheen Reza
---
Patient Summary
A pregnant woman at 29 weeks gestation presents with postpartum pulmonary edema, found to have papillary muscle rupture, is ultimately diagnosed with vascular Ehlers Danlos Syndrome. For a detailed course, enjoy the JACC case report.
---
Case Media
---
Episode Schematics & Teaching
Coming soon!
---
The CardioNerds 5! – 5 major takeaways from the #CNCR case
What is Ehlers-Danlos Syndrome?
Ehlers-Danlos Syndrome (EDS) is a clinically and genetically heterogenous group of heritable connective tissue disorders due to altered collagen metabolism. The inheritance pattern is variable, but is mostly autosomal dominant, with a range of mechanisms including deficiency of collagen-processing enzymes, mutant collagen chains, and haploinsufficiency.  
Although the syndrome has varying and overlapping clinical manifestations based on subtype (per the 2017 International ED Consortium there are 17 subtypes) it is largely characterized by hyperextensibility of the skin, hypermobility of joints, atrophic scarring, and tissue fragility.  The cardiovascular system is involved in the vascular and cardio-valvular subtypes.
The incidence is estimated to be 1 in 2500 to 5000, however this is likely an underestimation since mild presentations may not be clinically diagnosed nor sent for genetic testing. 
The differential diagnosis for suspected EDS includes osteogenesis imperfecta, Marfan syndrome, and Loeys-Dietz syndrome. Those with joint symptoms may be incorrectly diagnosed with fibromyalgia, chronic fatigue syndrome etc. 
What is vascular EDS?
There are many subtypes of EDS. Type IV or vascular EDS (vEDS) is an autosomal dominant disorder that affects Type III procollagen protein synthesis. The incidence is rare – 1 in 50,000 to 250,000 people and is ~5% of all EDS cases. 
It is commonly caused by a defect in the COL3A1 gene, most of which are single base substitutions, but more than 700 different mutations have been identified. Missense mutations at the C-terminal end of the molecule results in a more severe form of the disease.
Feared vascular manifestations include arterial dissection, rupture, and aneurysm formation. Death is most frequently secondary to complications from arterial dissection or hollow organ rupture. 70% of patients experience a first major event by age 20. Note, surgical repair of a ruptured aneurysm or dissection can be complicated by poor wound healing or hemorrhage because tissue in Ehlers-Danlos is friable.

In this subtype, the usual manifestations of joint hypermobility and skin hyperextensibility may not be as apparent.
The vascular type has the worst prognosis with median expectancy between 40-50 years of age.
How is vEDS diagnosed?
Vascular EDS should be considered in anyone with unexplained arterial or hollow viscus rupture, commonly the sigmoid colon, especially at a young age.
Diagnosis is confirmed by either finding of structurally abnormal type III procollagen in a culture of dermal fibroblasts or COL3A1 gene mutation. Clinical criteria can aid in the decision to pursue testing. 
Molecular testing is recommended when meeting one or more major clinical criteria or several minor criteria. Major criteria include family history of vEDS, unexplained arterial rupture at young age, spontaneous intestinal perforation (in absence of risk factors), uterine rupture during pregnancy and labor, or carotid-cavernous sinus fistula formation. 
Some minor criteria include bruising without trauma (especially in unusual locations), spontaneous pneumothorax, tendon/muscle rupture, gingival recession, early onset varicose veins, and characteristic facial appearance amongst other criteria. Characteristic facial features include presence of prominent eyes due to lack of adipose tissue around the orbit, thin punched nose, small lips, hollow cheeks, and lobeless ears.
How should patients with vEDS be managed?
Management of patients with vEDS requires a multidisciplinary team including a clinical geneticist. Baseline arterial imaging is needed but recommendations for follow-up imaging are not well defined. TTE should be performed at least every 3 years, to screen for cardiac complications. 
Contact sports should be avoided, as should anti-platelet and anti-coagulation therapy to minimize bleeding risks. Arterial and intramuscular punctures, arteriography, and routine colonoscopy should also be avoided. Surgical or endovascular management of complications can be challenging due to tissue friability.
Ascorbic acid is a co-factor for collagen fibrils and may reduce bruising. Desmopressin, vasopressin, and recombinant factor 8a have also been shown to reduce bleeding complications.
Patients with vEDS have decreased intima media thickness which imposes additional mechanical stress onto already fragile tissue. Celiprolol is a cardio-selective beta blocker and beta-2 partial agonist which has been showing to prevent arterial complications. However, this drug lacks FDA approval and is not available in the USA.
Importantly, cascade genetic testing should be offered to all first-degree relatives.
How can pregnancy–related complications be avoided?
Pregnancy in women with vEDS is considered high risk with maternal death rates over 10%. Pregnancy increases risks in two major ways: (1) increased risk of complications related to the gravid uterus and hypermobility (e.g., premature rupture of membranes, ligament laxity and rupture) or uterine/vascular rupture; (2) worsening of pre-existing pathology such as mitral valve prolapse of aortic dilation due to physiologic changes during pregnancy. 
Pre-pregnancy risk stratification and counseling is recommended for those with known vEDS. Some recommend termination of pregnancy in patients with known vEDS, but one study suggests that pregnancy does not influence life-expectancy. Current guidelines recommend a risk-benefit discussion with the patient and their family. 
In a patient with vEDS who becomes pregnant, care should involve a multidisciplinary team at a specialized center with vascular surgery, general surgery, and high-risk obstetrics. It is uncertain which mode of delivery improves the risk-benefit ratio for the patient and fetus. Furthermore, spinal or epidural anesthesia can have increased risk of complications in patients with vEDS.
---
The CardioNerds Cardiology Case Reports series shines light on the hidden curriculum of medical storytelling. We learn together while discussing fascinating cases in this fun, engaging, and educational format. Each episode ends with an "Expert CardioNerd Perspectives & Review" (E-CPR) for a nuanced teaching from a content expert. We truly believe that hearing about a patient is the singular theme that unifies everyone at every level, from the student to the professor emeritus.
We are teaming up with the ACC FIT Section to use the #CNCR episodes to showcase CV education across the country in the era of virtual recruitment. As part of the recruitment series, each episode features fellows from a given program discussing and teaching about an interesting case as well as sharing what makes their hearts flutter about their fellowship training. The case discussion is followed by both an E-CPR segment and a message from the program director.
References
Hutt, Erika, Celeste Santos-Martins, Jose Aguilera, Per Wierup, Vidyasagar Kalahasti, and Carmela Tan. "A 27-Year-Old Woman With Postpartum Papillary Muscle Rupture." JACC: Case Reports, October 2020, S2666084920311748. 
M.J. Eagleton. Arterial complications of vascular Ehlers-Danlos syndrome. J Vasc Surg, 64 (2016), pp. 1869-1880
Miklovic, Tyler, and Vanessa C. Sieg. "Ehlers Danlos Syndrome." In StatPearls. Treasure Island (FL): StatPearls Publishing, 2020.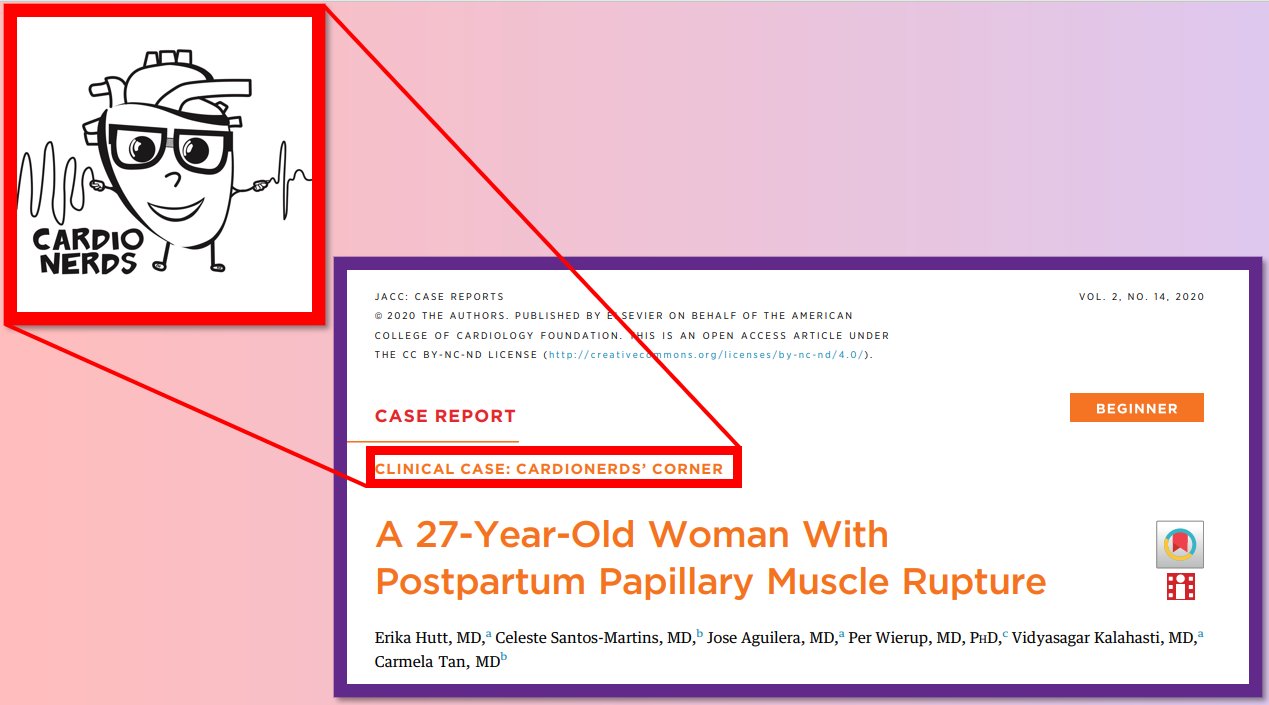 ---
CardioNerds Case Reports: Recruitment Edition Series Production Team